Advertisement
Cover your entire family under one health plan so Family health insurance is important.
When it comes to your family's safety, nothing you do is taken for granted. You take extra care in everything, be it making sure your kids get the best education or taking care of your aging parents and loving spouse, you leave no stone unturned. This is why when it comes to keeping your family safe, you should never settle for anything. There are many insurance products available in the market, but a family health insurance plan stands out.
Family health insurance plan allows you to cover a maximum of 6 family members under one mediclaim policy. It is a type of health insurance plan for which you pay a single premium amount for a family floater plan and the sum assured is divided among all the covered members. If a family member has a serious medical condition, he/she can use the entire cover to manage the treatment expenses.
Who can be covered under Family Medical Insurance?
to myself

husband wife

Dependent children (maximum 4)

Parents or father-in-law (maximum 2)
What is Family Health Insurance? – फैमिली हेल्थ इंश्योरेंस क्या है?
Family health insurance plans are health plans that cover your entire family. The differentiating factor between individual plans and family plans is that family plans provide coverage to each member of your family at the same premium. This means that you do not have to pay separate premiums for each individual, irrespective of their age. The best family health insurance plans in India cover spouse, children, parents and even parents-in-law under a single policy.
Want to buy a family health plan? Find all the details at once.
family health plan Benefits to Consider Family Health Insurance factor coverage What is not covered? buying process claim process
Why Buy Family Health Insurance?
As we all know there has been a huge increase in the cost of healthcare sector. High inflation makes it very difficult to cover the cost of doctor visits, hospitalization and medicines. It is also clear that a health emergency can strike at any time and affect people of all ages. This is why family medical insurance is so important. It protects your entire family with the necessary financial cover in tough and unprecedented times.
There are several benefits of buying family health insurance:
The chances of suffering from a serious illness are increasing every day, which is why buying adequate health insurance for your family members is no longer an option but a necessity. Family health insurance plans make it affordable to cover your family members. The advantage of health insurance plans for family is that you pay a single amount for one plan and insure all under it.

Paying premiums for different policies can be a hassle, tedious and confusing, which is why family health plans are convenient and hassle-free. A family plan bridges this gap and simplifies payments, making the process completely stress-free.

It also lets you claim tax benefits on premiums paid for family health insurance plans under section 80D.

You can enjoy family discounts depending on the number of members and their age and several benefits like maternity cover, these additional features make family packs a more viable option than individual plans.
Eligibility Criteria for buying family health insurance plan in India.
Every health insurance plan in India for family comes with eligibility criteria. The table below shows the general eligibility criteria for health insurance plans for family in India .
Top Family Insurance Plans
There is a wide range of family medical insurance plans in India, among which to make your search easier for families, here are some of the top health insurance policies. PolicyX has shortlisted these plans on the basis of maximum cover amount, comprehensive coverage and benefits, flexibility, reliability of the insurance provider, a vast list of network hospitals, etc.
plans

Sample Annual Premium




2A+2C | 30Yr | 10L

the gain

eligibility

Star Health Comprehensive Plan

Rs 24686

auto restoration

hospital daily cash

Air Ambulance Expense

Sum Assured:

 5 Lakh to 1 Crore




Entry Age:

 3 Months to 65 Years

Star Family Health Optima

Rs 20345

daycare procedures

Before and after hospitalization

road ambulance

Sum Assured:

 3 Lakh to 25 Lakh




Entry Age:

 18 Years to 65 Years

care plan

INR 2017

organ donor cover

Domiciliary Hospitalization

ambulance cover

Sum Assured:

 3 Lakh to 75 Lakh




Entry Age:

 91 Days No upper age limit

Niva Bupa Health Companion

Rs 21631

emergency ambulance

Rome Rent Cover

animal bite vaccination cover

Sum Assured:

 2 lakh to 1 crore




Entry Age:

 91 days with no upper limit

Niva Bupa Health Resure

20421 rupees

emergency ambulance

housing cash benefit

day care treatment

Sum Assured:

 3 Lakh to 1 Crore




Entry Age:

 18 Years to 65 Years
You can find the details of the above mentioned family insurance plans in the below section:
Star Health Comprehensive Plan
This policy is designed to provide complete protection to you and your family against all health care incidents.
Unique Features
Health checkup for claim-free years.

hospital cash benefit

100% Automatic Restoration
Family Health Optima Insurance Policy
This plan is ideal for families who wish to be covered under a single sum insured.
Unique Features
auto reset of SI

Instant recharge up to 30% of SI

Newborn baby cover from day 16
A comprehensive health plan for individuals and families, offers a wide range of sum insured options ranging from Rs 3 lakh to Rs 6 crore with global coverage benefits.
unique advantages
in-built maternity cover

No upper age limit for enrollment

Coverage for advanced treatments
You can find the most popular and best health insurance policies at PolicyX.com
health insurance companies
Explore top health insurance companies to buy the most suitable mediclaim policy for families.
Star Health Insurance

Care Health Insurance
Aditya Birla Health Insurance
HDFC ERGO Health Insurance
Apollo Munich Health Insurance
Max Bupa Health Insurance
ICICI Lombard Health Insurance
Tata AIG Health Insurance
Bajaj Allianz Health Insurance
SBI Health Insurance
Royal Sundaram Health Insurance
Manipal Cigna Health Insurance
Factors to consider while buying a health insurance plan for family
Buying a health insurance plan for a family is a huge responsibility as it provides you with the necessary medical assistance, health care facilities and ease of getting quality medical treatment in case of an emergency. Hence, there are several aspects to be considered carefully before buying a mediclaim for family to ensure that it meets all your requirements. These are:
coverage
Check out the coverage benefits offered under the plan such as expenses covered, sum insured option, core benefits, add-on riders, critical illness cover , etc.
network hospitals
Check out the list of network hospitals to avail cashless hospitalization facilities. Choose an insurance plan from the insurer, offering a wide range of network hospitals.
requirements
Always go for the plan that meets your needs in terms of sum assured, number of members covered, minimum and maximum entry age.
Benefits of family health insurance
Health insurance policies for families provide various benefits to the insured members such as: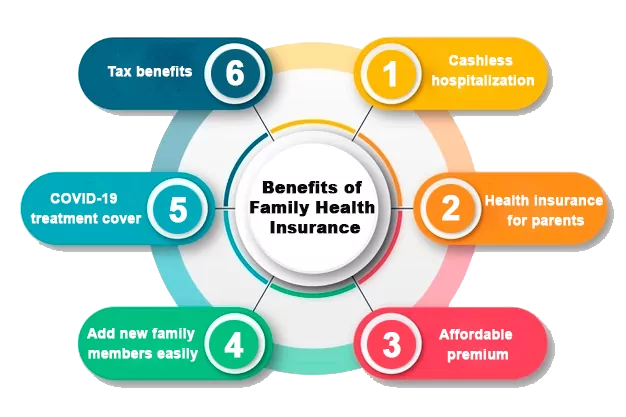 Required coverage for family health insurance
The family cover should be at least 200% of your annual income.
Calculate the ideal coverage amount for the family to get adequate medical assistance under health insurance. Consider the following aspects while deciding the cover for a family mediclaim policy
Number of members covered

Age of members covered

Health history of covered members

Lifestyles of Covered Members
Tip: If you have 2 senior citizen covers under your family floater plan, choose a higher cover. Or you can buy a senior citizen plan for them and cover your partner and children under health insurance for the family.
To get a better idea of ​​how much coverage is required in different scenarios and how the premium will be affected, we have shared some sample coverages and premiums below:
2 adults + 1 child
| | | |
| --- | --- | --- |
| Policyholder's age | sum insured | Premium Annual Samples |
| 30 years | 1.5 million | INR 27,790 |
1 adult+1 child+1 senior citizen
check your premium
What is covered under Family Health Insurance?
Health insurance policies for families offer comprehensive, flexible, customized and affordable coverage, depending on the mediclaim policy you choose for your family. If you or a family member insured under a health insurance plan for family, the following coverage is provided:
Disclaimer: The number of coverages offered and their amount may vary depending on the type of plan or health insurer.
Family Health Insurance Exclusions
Medical insurance for families usually does not cover certain health care expenses and medical conditions. Some of the exclusions under mediclaim policies for families are mentioned below:
OPD treatment

sexually transmitted diseases

self-inflicted injury

Illness due to drug and alcohol abuse

Injury caused by adventure sports
Read Also: सीनियर सिटीजन हेल्थ इंश्योरेंस प्लान
buy family health plan
You can buy a mediclaim policy for your family from the brand website of your desired insurance company or through PolicyX.com as it comes with an easy and user-friendly buying process that is safe, quick and hassle-free to take you anywhere. Allows you to buy your policy from anywhere and anytime.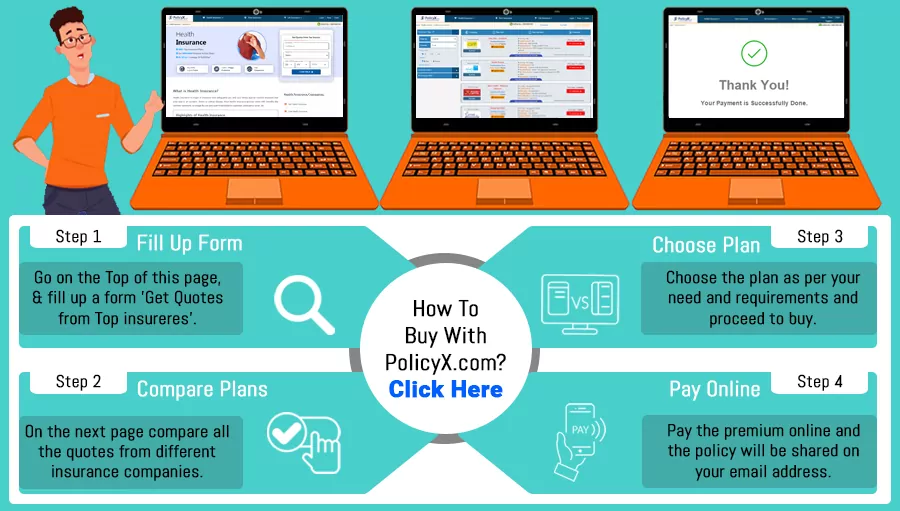 Family Health Insurance Claim Process
There are 2 types of claim process available for family health insurance claims. Choose any one as per your convenience.
planned hospitalization
Inform the insurer 48 to 72 hours before hospitalization

The insurance company will provide a confirmation letter

Submit your health card and confirmation letter

The insurance company will settle all the bills directly with the hospital
emergency hospitalization
Inform the insurer about the hospitalization (within 24 hours)

Fill and submit the claim form

Submit other required documents

The hospital will receive an authorization letter from the insurer

Medical bills will be paid directly by the insurer
conclusion
If you compare health insurance plans in India, you will find that a family plan is incredibly cost-effective and easy to manage. It takes away your worries, provides the best benefits to each and every member of the family, and gives you peace of mind to move forward. Investing in a family health insurance plan is the need of the hour, so make sure you buy a suitable plan soon.
Family Health Insurance: Frequently Asked Questions
1. What is the policy term option for Family Health Insurance?
2. How many people can be covered under Family Health Insurance?
3. Which family member can I cover under the Family Health Plan?
4. What is Mediclaim Insurance for Family?
5. Are family health plans cheaper than individual health plans?
6. What is the average cost of a family floater plan for aged families?
7. Which health insurance is better to buy – family or individual?
8. What is the difference between mediclaim policy for a family and mediclaim policy for an individual?
9. My parents are above 60, can I cover them under family floater plan?
10. Can I convert my family health insurance policy into an individual health plan?
11. Can I add my daughter-in-law under my family floater plan?
12. What is Family Floater Health Insurance Plan?
13. Does family health insurance provide coverage for AYUSH treatment?
14. What will happen to the family floater policy on the death of the proposer?
15. I am planning to start a family. Which type of health insurance would be better for me- Individual or Family floater?